The Things We Say, the Things We Do
Les choses qu'on dit, les choses qu'on fait
Directed by:
Emmanuel Mouret
Cinema program "The Things We Say, the Things We Do" in Kraków
No showtimes for movie "The Things We Say, the Things We Do" for today
Choose other date from the calendar above.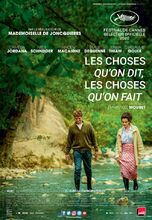 Original title:
Les choses qu'on dit, les choses qu'on fait
Production:
Francja , 2021
Release Date:
8 October 2021
Distribution:
Aurora Films
Directed by:
Emmanuel Mouret
Cast:
Camelia Jordan
,
Niels Schneider
,
Vincent Macaigne
O miłości nikt nie potrafi mówić w równie piękny, a zarazem oryginalny sposób jak Francuzi. To wyjątkowe uczucie oraz towarzyszące mu spektrum emocji, ale i zawiłości, stanowią główny temat nowego filmu Emmanuela Moureta, który już zdążył podbić światowe festiwale filmowe.
W KINACH OD 8 PAŹDZIERNIKA 2021
Historia koncentruje się wokół Daphné i Maxime'a, którzy dość nieoczekiwanie spotykają się na urokliwej francuskiej prowincji. Będąca w trzecim miesiącu ciąży kobieta wyjechała tam ze swoim partnerem François. Z kolei dla jego kuzyna Maxime'a to próba złapania równowagi po bolesnym rozstaniu.
Kiedy okazuje się, że François musi na kilka dni wyjechać, bohaterowie natychmiast znajdują wspólny język i zbliżają się do siebie. Dzielą pełne rozczarowań i frustracji podobne związkowe doświadczenia, które poznajemy w serii retrospekcji. Szybko okazuje się, że gdy mowa jest o miłości, nic nie jest tak proste, jak mogłoby się wydawać.
W "Dyskretnym uroku niebezpiecznych myśli" Emmanuel Mouret kontynuuje zainteresowania, które sygnalizował w swoich poprzednich filmach. Stawia na oryginalną narrację, wyraźnie osobisty ton i zgrabnie balansuje pomiędzy nastrojami, rozładowując emocje humorem, gdy robi się zbyt poważnie.
NAGRODY I FESTIWALE:
2021 – Cezary – nagroda dla najlepszej aktorki drugoplanowej (Émilie Dequenne), nominacje: najlepszy film, najlepszy reżyser, najlepszy scenariusz, najlepsza aktorka, najlepszy aktor, najlepszy aktor drugoplanowy, najlepszy dźwięk, najlepsze kostiumy, najlepsza scenografia,
2021 – Faro Island Film Festival
2021 – Nagrody Francuskich Krytyków Filmowych - najlepszy film francuski
2021 – ICS Awards – nominacja do ICS Award
2020 – Cahiers du Cinéma– najlepsza dziesiątka filmów (piąte miejsce)
2020 – Międzynarodowy Festiwal Filmowy w Cannes – oficjalna selekcja
2020 – Międzynarodowy Festiwal Filmowy w Karlowych Warach – oficjalna selekcja
2020 – Międzynarodowy Festiwal Filmowy w Busan
2020 – Międzynarodowy Festiwal Filmowy w Gijon
2020 – Międzynarodowy Festiwal Filmowy w Tokio
2020 – Międzynarodowy Festiwal Filmowy w Jerozolimie
2020 – Międzynarodowy Festiwal Filmowy w Sztokholmie
2020 – Międzynarodowy Festiwal Filmowy w Lejdzie
Movie trailer: The Things We Say, the Things We Do