Cinema program "Cloudy with a Chance of Meatballs 2" in Kraków
No showtimes for movie "Cloudy with a Chance of Meatballs 2" for today
Choose other date from the calendar above.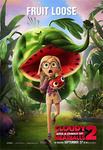 Original title:
Cloudy with a Chance of Meatballs 2
Runtime:
95 min.
Production:
USA , 2013
Category:
animation
/
comedy
/
family
Release Date:
11 October 2013
Distribution:
UIP
Directed by:
Cody Cameron
,
Kris Pearn
Cast:
Neil Patrick Harris
,
Anna Faris
,
Andy Samberg
,
Terry Crews
,
James Caan
,
Kristen Schaal
,
Bill Hader
,
Benjamin Bratt
,
Will Forte
,
Jacek Bończyk
Akcja najnowszego filmu rozpoczyna się dokładnie tam, gdzie zakończyła się w 2009 roku w przeboju Sony Pictures Animation Klopsiki i inne zjawiska pogodowe (Cloudy with a Chance of Meatballs). Geniusz Flinta Lockwooda zostaje w końcu doceniony przez jego idola Chestera V, który zaprasza młodego wynalazcę do dołączenia do zespołu Live Corp Company, gdzie najbłyskotliwsi konstruktorzy świata tworzą nowe technologie mające na celu polepszenie życia ludzkości. Prawą ręką Chestera – i jednym z jego najwspanialszych wynalazków – jest Barb, znajdujący się na wysokim poziomie ewolucji orangutan z ludzkim mózgiem – bardzo złośliwy manipulator wyjątkowo lubiący malować sobie usta. Chociaż marzenie Flinta zostało spełnione, wszystko zmienia się z chwilą, kiedy odkrywa, że jego niesławna maszyna (zamieniająca wodę w jedzenie) ciągle działa i tworzy teraz hybrydy będące połączeniem jedzenia ze zwierzętami – "jerzęta!". Mając w swoich rękach los planety, Chester wysyła Flinta i jego przyjaciół na niebezpiecznie smaczną misję. Muszą opanować głodne takodyle, szympagrysy, hipomniaki, tarantoburger i mnóstwo innych stworzeń, aby ocalić świat!
Movie trailer: Cloudy with a Chance of Meatballs 2