Cinema program "Sjunde inseglet, Det" in Kraków
No showtimes for movie "Sjunde inseglet, Det" for today
Choose other date from the calendar above.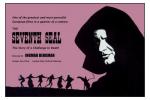 Original title:
Sjunde inseglet, Det
Runtime:
96 min.
Production:
Szwecja , 1956
Release Date:
5 January 2007
Distribution:
Gutek Film
Directed by:
Ingmar Bergman
Cast:
Gunnar Bjornstrand
,
Bengt Ekerot
,
Nils Poppe
,
Max von Sydow
Siódma pieczęć powstała na bazie jednoaktówki "Malowidło w drewnie", którą Bergman stworzył dla (i przy udziale) studentów szkoły teatralnej w Malmö. To, co miało być warsztatową wprawką, okazało się podstawą dla filmu, który uczynił reżysera sławnym. Siódma pieczęć - moralitet ubrany w średniowieczny kostium - to pierwsza część z tak zwanego cyklu wertykalnego, a zarazem pierwsza Bergmanowska próba poznania Boga, próba, którą autor ponowi w wielu tytułach, choćby w Jak w zwierciadle, Gościach wieczerzy pańskiej i Milczeniu.
Rycerz Antonius Block i jego giermek Jöns powracają z wyprawy krzyżowej. Podróżują przez ziemie zniszczone szalejącą zarazą, obserwują okrutne gwałty i pochody biczowników, spotykają przerażoną dziewczynę skazaną na śmierć za czary i rodzinę kuglarzy, która stanowi jedyną oazę szczęścia w tym straszliwym świecie. Block traktuje podróż jako drogę do poznania prawd ostatecznych. Ponieważ życie naokoło wydaje się pozbawione sensu, a Bóg milczy, rycerz gotów jest zapytać Śmierci. Ta decyduje się podjąć jego wyzwanie i zagrać z nim w szachy, na jednej szali kładąc tajemnicę wszechrzeczy, na drugiej - jego życie.
"Wartość artystyczna Siódmej pieczęci wynikała nie tyle z bezwzględnej oryginalności intelektualnej filmu, bo o takiej mówić trudno, co z jego niezwykle sugestywnego kształtu estetycznego. Widmo wszechobecnej Śmierci na pierwszym planie, wizyjna inscenizacja scen masowych (...), idealna harmonia pierwiastków sacrum i profanum, tragizmu i komizmu, patosu i arlekinady, epiki i liryki, realizmu i fantastyki (...) złożyły się na filmowy spektakl o ogromnej i nieprzemijającej sile emocjonalnego oddziaływania - świadectwo absolutnego mistrzostwa Bergmana w opanowaniu filmowej formy." - pisał o Siódmej pieczęci Tadeusz Szczepański.