Cinema program "The Blue Caftan" in Kraków
No showtimes for movie "The Blue Caftan" for today
Choose other date from the calendar above.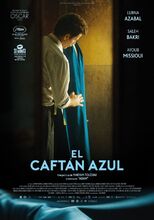 Original title:
The Blue Caftan
Runtime:
122 min.
Production:
Francja/Maroko/Belgia/Dania , 2022
Release Date:
22 September 2023
Distribution:
Aurora Films
Directed by:
Maryam Touzani
Cast:
Lubna Azabal
,
Saleh Bakri
,
Ayoub Missioui
Obsypany nagrodami na światowych festiwalach film "Turkusowa suknia" jest wzruszającą, pełną lokalnego, marokańskiego kolorytu opowieścią o różnych odcieniach miłości. Reżyserka Maryam Touzani z dużą czułością i subtelnością portretuje swoich bohaterów, koncentrując się na detalach, gestach, spojrzeniach.
Film znalazł się na shortliście do Oscarów 2023.
W KINACH OD 22 WRZEśNIA 2023
Mina i Halim, małżeństwo z wieloletnim stażem, prowadzi niewielki zakład krawiecki w marokańskim mieście Sala. O talencie mężczyzny, a zwłaszcza niezwykłym hafcie, jakim ozdabia tradycyjne, szyte przez siebie stroje, jest na tyle głośno, że kolejne zamówienia znacznie przekraczają jego możliwości.
Sytuacja zmusza Halima, by zatrudnił młodego pomocnika, choć początkowo nie jest do tego przekonany. Ostatecznie pod jego skrzydła trafia Youssef, dla którego praktyka u boku mistrza w swoim fachu, za jakiego uchodzi starszy z mężczyzn, jest wielką szansą. Przyglądanie się codziennej żmudnej pracy Halima to dla niego nie tylko możliwość doskonalenia własnych umiejętności, ale też lekcja cierpliwości oraz pokory.
Tym cenniejsze, że z każdym dniem bohaterowie nabierają do siebie większego zaufania i zaczyna ich łączyć coraz bliższa więź, co nie pozostaje niezauważone przez Minę.
Movie trailer: The Blue Caftan