Wszystkie kina zamknięte !
W związku z sytuacją pandemiczną, wszystkie kina zostały zamknięte. Część z nich działa jedynie online, udostępniając filmy w modelu VOD. Pomóż kinom przetrwać ten ciężki dla nich czas !
Gdy tylko będzie znana data ponownego otwarcia kin, niezwłocznie ją podamy.
Cinema program "What We Do in the Shadows" in Kraków
No showtimes for movie "What We Do in the Shadows" for today
Choose other date from the calendar above.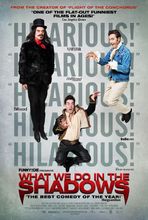 Original title:
What We Do in the Shadows
Runtime:
86 min.
Production:
Nowa Zelandia , 2014
Category:
comedy
/
horror
Release Date:
27 February 2015
Distribution:
Mayfly
Directed by:
Jemaine Clement
,
Taika Waititi
Cast:
Jemaine Clement
,
Taika Waititi
,
Jonathan Brugh
A new movie poster "Boy" and "Flight of the Conchords" is an explosive mixture of horror and black comedy realized in the trendy mockumentu Convention. Viago (379 l.), Deacon (183 l.), Vladislav (862 l.) And Petar (8000 l.) Live together in the suburbs of contemporary Wellington, New Zealand. Their life begins only after dark, when the coffin and leave the den to face everyday life, which also happens to vampires uneasy. Immortality and the desire of fresh human blood has long since ceased to be their
main concern, because modernity poses new challenges before them. Accompanied by a group of filmmakers during everyday duties, minor quarrel or go out on the town the night that the brilliant humor remind us that even though their hearts have stopped beating centuries ago, continues to feed hot and very human feelings.

Movie trailer: What We Do in the Shadows