Cinema program "The Little Mermaid" in Kraków
No showtimes for movie "The Little Mermaid" for today
Choose other date from the calendar above.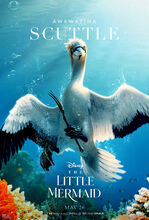 Original title:
The Little Mermaid
Production:
USA
Release Date:
26 May 2023
Distribution:
Disney
Directed by:
Rob Marshall
Cast:
Halle Bailey
,
Jonah Hauer-King
,
Melissa McCarthy
Mała Syrenka to wyreżyserowana przez specjalistę od musicali – Boba Marshalla – aktorska wersja nagrodzonej Oscarami klasycznej animacji Disneya, która pojawi się w kinach 26 maja 2023 roku. To popularna historia pięknej, odważnej i żądnej przygód syrenki Arielki - najmłodszej i najbardziej niepokornej córki Trytona – króla mórz i oceanów. Fascynacja światem ludzi ciągnie ją na powierzchnię, gdzie trafia na przystojnego księcia Eryka i z miejsca się w nim zakochuje. Mimo wszelkich zakazów, Ariel podąża za głosem serca i zawiera pakt z podstępną morską wiedźmą Urszulą. Syrenka będzie mogła żyć na lądzie, ale cena okaże się bardzo wysoka.
Movie trailer: The Little Mermaid