Cinema program "Dude, Where's My Car?" in Kraków
No showtimes for movie "Dude, Where's My Car?" for today
Choose other date from the calendar above.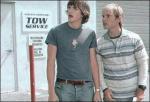 Original title:
Dude, Where's My Car?
Runtime:
83 min.
Production:
USA , 2000
Release Date:
6 April 2001
Distribution:
Syrena
Directed by:
Danny Leiner
Cast:
Ashton Kutcher
,
Seann William Scott
,
Kristy Swanson
,
Jennifer Garner
,
Marla Sokoloff
Wszystko wskazuje na to, że zeszłej nocy Jesse (Ashton Kutcher - "Tam gdzie ty", "Uwikłany") i Chester (Seann William Scott - "American Pie", "Ostra jazda", "Oszukać przeznaczenie") bawili się jak nigdy, bo budząc się rano nie pamiętają nic a nic z tego, co się działo. Nie pamiętają, ile wypili i co robili, a co gorsza nie pamiętają także, gdzie zaparkowali swój samochód. Ich dziewczyny nie mogą im wybaczyć, że zdemolowali im dom i zapomnieli o wspólnej rocznicy. Jesse i Chester postanawiają je przebłagać prezentami, pech jednak chce, że zostawili je w samochodzie, który przepadł jak kamień w wodę. Dwaj kumple nie mają innego wyjścia, jak czym prędzej go odnaleźć. Nie przypuszczają nawet, co ich czeka, bo w ślad za nimi ruszają wyznawcy kultu UFO, dwóch nordyckich kolesi w skórach i energiczne panienki w obcisłych kostiumach, a wszyscy przekonani są, że Jesse i Chester wiedzą, gdzie jest niezwykłe urządzenie kryjące w sobie klucz do tajemnic wszechświata...
"Stary, gdzie moja bryka?" to zwariowana komedia sensacyjna zrealizowana z myślą o młodzieżowej widowni, popis duetu Ashton Kutcher - Seann William Scott, których zalicza się do czołówki amerykańskich aktorów komediowych młodego pokolenia.