Cinema program "Pretty Young Thing" in Kraków
No showtimes for movie "Pretty Young Thing" for today
Choose other date from the calendar above.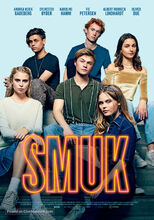 Original title:
Smuk
Runtime:
95 min.
Production:
Dania , 2022
Release Date:
2 June 2023
Distribution:
Vivarto
Directed by:
Tilde Harkamp
Cast:
Sylvester Byder
,
Oliver Due
,
Andrea Heick Gadeberg
Początek roku w typowej szkole średniej. Wszyscy żyją jeszcze wakacjami i wymyślaniem ciekawych rytuałów inicjacyjnych dla pierwszoroczniaków.
To jak sobie poradzą młodzi ma ogromne znaczenie dla ich przyszłej pozycji w nowej szkole. Losy sześciorga bohaterów to przejmujaca opowieść o okresie dojrzewania z charakterystycznymi dla niego wzlotami i upadkami.
Movie trailer: Pretty Young Thing