Cinema program "Truffle Hunters" in Kraków
No showtimes for movie "Truffle Hunters" for today
Choose other date from the calendar above.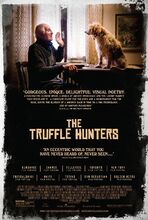 Original title:
Truffle Hunters
Production:
Włocy/Grecja/USA , 2020
Release Date:
24 December 2021
Distribution:
M2 Films
Directed by:
Michael Dweck
,
Gregory Kershaw
Cast:
Piero Botto
,
Sergio Cauda
,
Maria Cicciu
Magiczny, czarujący, pełen ciepła i humoru film o ludziach, którzy znaleźli swój przepis na szczęście – od lat, w lasach włoskiego Piemontu, zbierają razem ze swoimi psami trufle i nie wyobrażają sobie, że mogliby robić cokolwiek innego. Wyprodukowany przez Lucę Guadagnino, reżysera "Tamtych dni, tamtych nocy" wyjątkowy dokument, który zachwycił widzów i krytyków na całym świecie.
‍
Po obejrzeniu tego filmu będziecie chcieli rzucić wszystko i wyjechać do Włoch, aby w piemonckich górach zbierać trufle! Carlo, Enrico, Piero i Sergio mieszkają nieopodal Mediolanu, gdzie od lat razem ze swoimi ukochanymi psami szukają rzadkich i drogich trufli Alba. Ten niezwykły rarytas jest przedmiotem pożądania ludzi na całym świecie, którzy gotowi są zapłacić za niego niemal każdą cenę. Okazuje się jednak, że w niektórych miejscach nie wszystko jest na sprzedaż. Dla grupy uroczych włoskich staruszków trufle to nie żyła złota, a przepis na szczęście, które każdego dnia odnajdują na nowo na szlakach piemonckich lasów.
Movie trailer: Truffle Hunters